By: Dr. Dev Batra | 01.30.23
The VenaSeal procedure is a new method of vein closure that has unique advantages over other treatment options. Vein specialist Dr. Dev Batra provides a review of how VenaSeal treatment works and how its advantages might provide a better patient experience.
In our last post, we discussed the advent of minimally-invasive thermal ablation for the treatment of varicose veins. Over the course of the past two decades, thermal ablation has emerged as the gold standard for varicose vein treatment. As heat energy is involved, the procedure generally requires the use of "tumescent anesthesia" – a solution containing a very low dose of lidocaine (a numbing agent). This is to ensure that the patient does not experience any pain from nearby nerves affected by the heat. A combination of image-guided expertise and tumescent anesthesia makes for a very comfortable thermal ablation procedure with low pain scores for most patients.¹
What is VenaSeal
In the past few years, a new minimally-invasive modality for varicose vein treatment has emerged. The VenaSeal system – a bio-adhesive designed for use in the veins – was approved by the FDA in 2015 for the treatment of adults with clinically symptomatic venous reflux / varicose veins.² Similar to the thermal ablation modalities, the goal of VenaSeal is to permanently close down diseased veins. However, unlike thermal ablation, no heat is involved in the VenaSeal procedure. As such, no tumescent anesthesia (the numbing agent we discussed above) is required, leading some patients to elect this modality over standard thermal ablation.² The medical community refers to this type of modality as "NTNT", or "non thermal, non tumescent".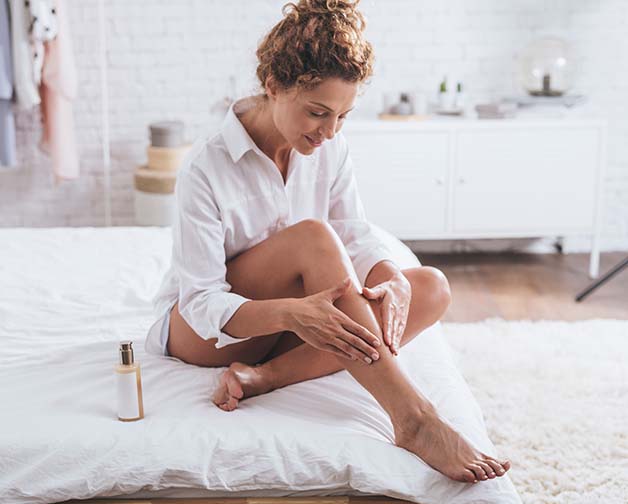 How Venaseal Works
The VenaSeal™ adhesive is an n-butyl-2-cyanoacrylate (NBCA) based formulation. The chemistry behind the device, to the surprise of many, is no different than a number of long-standing bio-adhesives used to close surgical incisions, wounds, and lacerations. Kept isolated, the VenaSeal solution is a clear, sterile, free-flowing liquid. Upon contact with bodily fluids (in this case blood inside the vein), the individual molecules of NBCA begin attaching to one another, or as chemists call it "polymerizing". Within minutes, this creates a solid material within the insufficient vein, which is then surrounded by fibrous tissue by your body's natural mechanisms – creating a durable occlusion.²
The VenaSeal Procedure
The procedure can take anywhere from thirty to sixty minutes, depending on the length of the vein needing treatment. After expert mapping of a patient's individual reflux pattern, a catheter is ultrasound-guided to the highest point of reflux. VenaSeal™ adhesive is then injected in pre-specified volumes, segment-by-segment, followed by brief compression of the vein, until reaching the end of the diseased segment (hence why treatment time varies based on the length of the vein segment). Depending on the extent of disease, we may encourage the use of compression stockings following the procedure, however early real-world registry data have demonstrated that compression stockings may not be necessary.³⁻⁴
Clinical Outcomes of VenaSeal
The next logical question is: how do outcomes for VenaSeal compare to standard thermal ablation? The best answer that we have to this question comes from the VeClose study, a large study in which 222 patients were randomly assigned to either VenaSeal or radiofrequency ablation. At one year, the study showed similar improvement of symptoms, and similar rates of vein closure between the two groups – both groups achieving success rates greater than 95%.⁵ Unpublished three-year data were presented in London in April 2017, demonstrating similar efficacy between the two groups and addressing the lingering concerns about the long-term efficacy of VenaSeal.⁶
Improved Patient Experience
No Heat, No Tumescence, Fewer Needlesticks
Thermal ablation devices, such as radiofrequency and laser treatment, work by applying short bursts of focused heat to the inside of the vein that causes the vein to collapse. Over time, the treated vein is replaced by connective tissue as it heals from the thermal treatment.⁷ Many medically beneficial procedures are destructive in nature, so individuals considering treatment shouldn't find this type of approach alarming. However, thermal treatment does require certain safeguards to protect patients from the adverse effects of extreme heat – one of which is the use of tumescent anesthesia. Tumescent anesthesia is a liquid that numbs the treatment area while providing a heat-conducting medium for the safe delivery of thermal energy.⁷
Covering the entire length of a vein with anesthesia can require several uncomfortable needlesticks. On the other hand, VenaSeal treatment is entirely non-thermal and, therefore, does not require tumescent anesthesia. In other words: fewer needlesticks and a more comfortable procedure.
Immediate Return to Normal Activities
Another advantage of VenaSeal is that it accomplishes vein closure in a relatively non-destructive way. Medical-grade adhesive is delivered in small increments along the length of the vein followed by brief compression of the vein, not unlike sealing a small straw with super glue.⁸ The non-thermal nature of VenaSeal treatment makes it particularly easy for patients to return to work and resume moderate exercise immediately following their procedure, whereas it can take patients a few days to fully recover from thermal ablation.
This point is further emphasized in human studies directly comparing VenaSeal to thermal ablation, which has demonstrated that treatment with VenaSeal sees less post-procedural pain and bruising than treatment with thermal ablation.⁵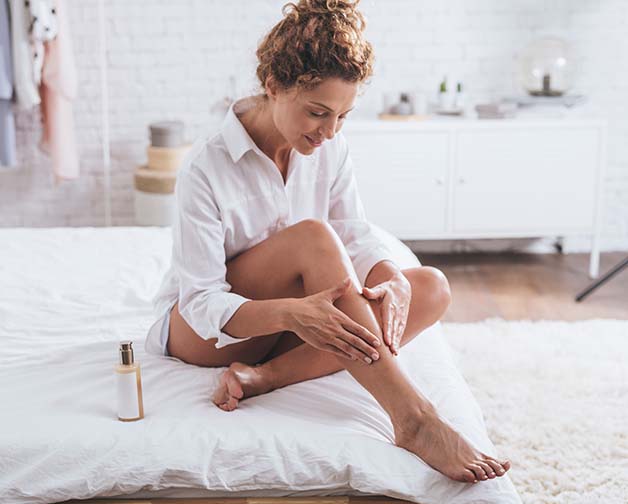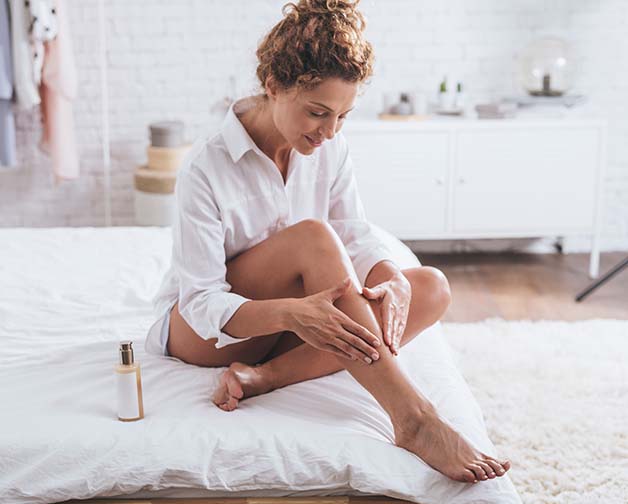 No Compression Stockings
Medical-grade compression stockings have long been an integral part of minimally invasive vein treatment. When one of our patients receives an ablation treatment, we recommend that patient to wear compression stockings for 3-5 days following treatment. Stockings help to manage post-operative pain and reduce the risk of procedure-related complications.⁹ Unfortunately, medical stockings are notorious for being uncomfortable. And ditching the stockings early, which is all too common, may stretch out the recovery process.
Because the VenaSeal 'glue' seals the vein shut within minutes of application, patients usually aren't required to wear compression stockings.³ Removing the need for post-procedure compression stockings eases the recovery process and eliminates concerns about stocking compliance.
Advantages of VenaSeal™ Treatment
No heat, no tumescent anesthesia, less needlesticks ⁸
Non-destructive, allowing immediate return to normal activities
Less post-procedure pain and bruising ⁵
No need for compression stockings ³
We're always looking at new ways to improve the patient experience at Texas Vascular Institute, which is why we're ecstatic to be one of the first vein clinics in the Dallas region to offer VenaSeal to our patients.
About the Author
Dr. Dev Batra, M.D. is a vein specialist and founding partner of Texas Vascular Institute. Holding board certifications in radiology and vascular & interventional radiology, he is well-versed in vein issues and has been voted one of D-Magazine's best doctors in Dallas for three years running.
This blog post was written with research and editorial assistance from OnChart™.
References
[1] Mark H Meissner (2016). What is Effective Care of Varicose Veins? Phlebology, 31(1), 80-87.
[2] Venaseal Closure System Product Code VS-402. PT – 11348-01 Rev D, 2015-02.
[3] Gibson K., and Ferris B. Cyanoacrylate closure of incompetent great, small and accessory saphenous veins without the use of post-procedure compression: Initial outcomes of a post-market evaluation of the VenaSeal System (the WAVES Study) Vascular, 25(2):149-156.
[4] Thomas M. Proebstle et al. (2015). The European multicenter cohort study on cyanoacrylate embolization of refluxing great saphenous veins J Vasc Surg: Venous and Lym Dis, 3(1), 2-7.
[5] Nick Morrison et al. (2017). VeClose trial 12-month outcomes of cyanoacrylate closure versus radiofrequency ablation for incompetent great saphenous veins.Journal of Vascular Surgery: Venous and Lymphatic Disorders, 5:321-30.
[6] Three-Year VeClose Data and 1-Year WAVES Data Presented for Medtronic's VenaSeal Closure System. Endovascular Today. Web: https://evtoday.com/2017/04/three-year-veclose-data-and-1-year-waves-data-presented-for-medtronics-venaseal-closure-system
[7] Lohr, J., & Kulwicki, A. (2010). Radiofrequency Ablation: Evolution of a Treatment. Seminars in Vascular Surgery, 23(2), 90–100.
[8] Kugler, N. W., & Brown, K. R. (2017). An update on the currently available nonthermal ablative options in the management of superficial venous disease. Journal of Vascular Surgery: Venous and Lymphatic Disorders, 5(3), 422–429.
[9] Joh, J. H., Kim, W.-S., Jung, I. M., Park, K.-H., Lee, T., Kang, J. M., & Consensus Working Group. (2014). Consensus for the Treatment of Varicose Vein with Radiofrequency Ablation. Vascular Specialist International, 30(4), 105–12.
Medical Disclaimer
The Materials available in the Texas Vascular Institute blog are for informational and educational purposes only and are not a substitute for the professional judgment of a healthcare professional in diagnosing and treating patients.
WHAT OUR PATIENTS

have to say
Texas Vascular Institute always appreciates feedback from our valued patients. To date, we're thrilled to have collected 378 reviews with an average rating of 5 out of 5 stars. Please read what others are saying about Texas Vascular Institute below, and as always, we would love to collect your feedback.
Leave a Review

Amazing Practice
I'm very particular with my Healthcare and tend to be cautious with referrals to specialists. This office is amazing from the first point of contact. Their staff are friendly, professional and highly knowledgeable. Then the Dr is just as amazing as his staff, absolutely brilliant. Office manager Jessica has this office running like a well oiled machine and does so with a smile, an air of confidence, kindness and professionalism. Love this practice!!
- Richard G.

Beyond Thankful
Dr Batra and his staff are amazing! We are so grateful to have found him. Everyone is so kind and so caring and Dr Batra explains everything so well and does procedures with excellence. Beyond thankful to be under their care!!!
- Bitsy P.

Gold Standard
This is a gold standard for how a medical practice should be run. I was promptly seen at my scheduled time, my ultrasound was thorough and I received plenty of attention and care from the staff and Dr.Batra.
- Weronika L.
INSURANCE
We accept most major insurance plans. Please contact the medical office for all insurance related questions.








View Full List of Insurance Companies
Texas Vascular Institute | Dallas, TX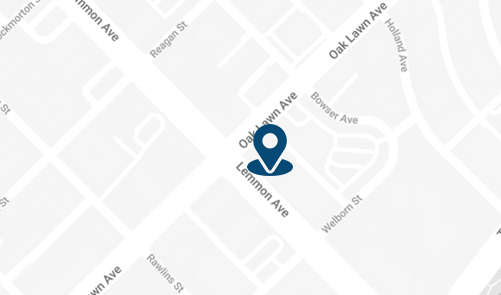 Address
3500 Oak Lawn Ave, #760
Dallas, TX 75219
Phone
For Appointments: 972-798-4710
General Inquiries: 972-646-8346
Set Appointment
Texas Vascular Institute | Hurst, TX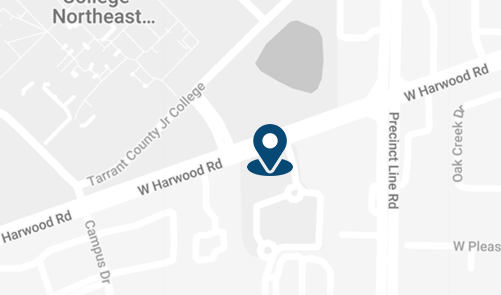 Address
809 West Harwood Rd, Suite 101,
Hurst, TX 76054
Phone
For Appointments: 972-798-4710
General Inquiries: 972-646-8346
Set Appointment